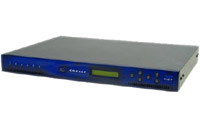 In our continual attempt to bring new offerings to our customers, we introduce a new service that could establish a virtual presence for a small or medium-size company. This solution is a Cobalt RaQ3/4 box completely redesigned and refurbished utilizing CentOS 4.4 and a user-friendly web hosting control panel called BlueQuartz.
This 1U rack-mountable server appliance integrates the hardware, software, database and development tools needed to deploy applications quickly without any prior server experience. All of these integrated functions translate into an extremely simple system to deploy, use, and manage, all for a total cost well below conventional servers.
A Cobalt box with a BQ interface offers a true plug and play web hosting platform. (the link to features and applications installed) Millions of web sites are hosted on Sun Cobalt RaQ server appliances worldwide. No more software and security bugs, you receive an open-source proven platform and world-wide accepted applications that will help you host your sites and serve your customers.
Now the most exciting part of our offer to you. You can have all this for just for CAD59.95 per month. The server is dedicated to you and you are free to do whatever you wish to do to accommodate your business needs. Some conditions apply (see the link). What is even more exciting is 1 month of free support.